Our Catering
Here are our top tips to help keep children's and grown-up's tummies satisfied during a visit to Odds Farm!
Guests can take a break and tuck into something scrumptious to eat-in at Marmalade's Tea Room, or take away drinks and tasty treats from our Coffee Bar & Ice Cream Parlour to enjoy across the Farm Park.
Marmalade's Tea Room
Open Daily: Monday- Sunday 11:00-17:00. Hot food served between 11:30-17:00
Feeling hungry? Providing an exciting menu with something to suit all tastes, families will love enjoying food from Marmalade's Tea Room!
Please be aware, our menus, food items, and specials available are always being updated, and can be subject to change without notice. Please see an example menu below.
Looking for our Sunday Carvery? Carvery will return every Sunday from 26th November and through the winter. On Sundays our carvery will exclusively be available, along with sandwiches and snacks too.
Award Winning Catering
Marmalade's Tea Room won Best F&B at the National Farm Attractions Awards 2019 and the winner of the prestigious "Silver" Award for the Café/Tea Room of the Year at the Beautiful South Awards.
Allergies & Special Dietary Requirements
We aim to accommodate all allergens where we can and serve a variety of hot and cold food that is gluten free, dairy free and more. Should you have any special dietary requirements or questions, simply let us know, and we will endeavour accommodate you; all requests can be specified during the ordering process.
Providing Fresh, Delicious And UK Sourced Food
With a promise to source ingredients from the British Isles, our chefs are committed to using free-range, organic, ethical and fair trade produce to serve fresh, delicious and wholesome food. All the dishes are available in Adult or Child portions.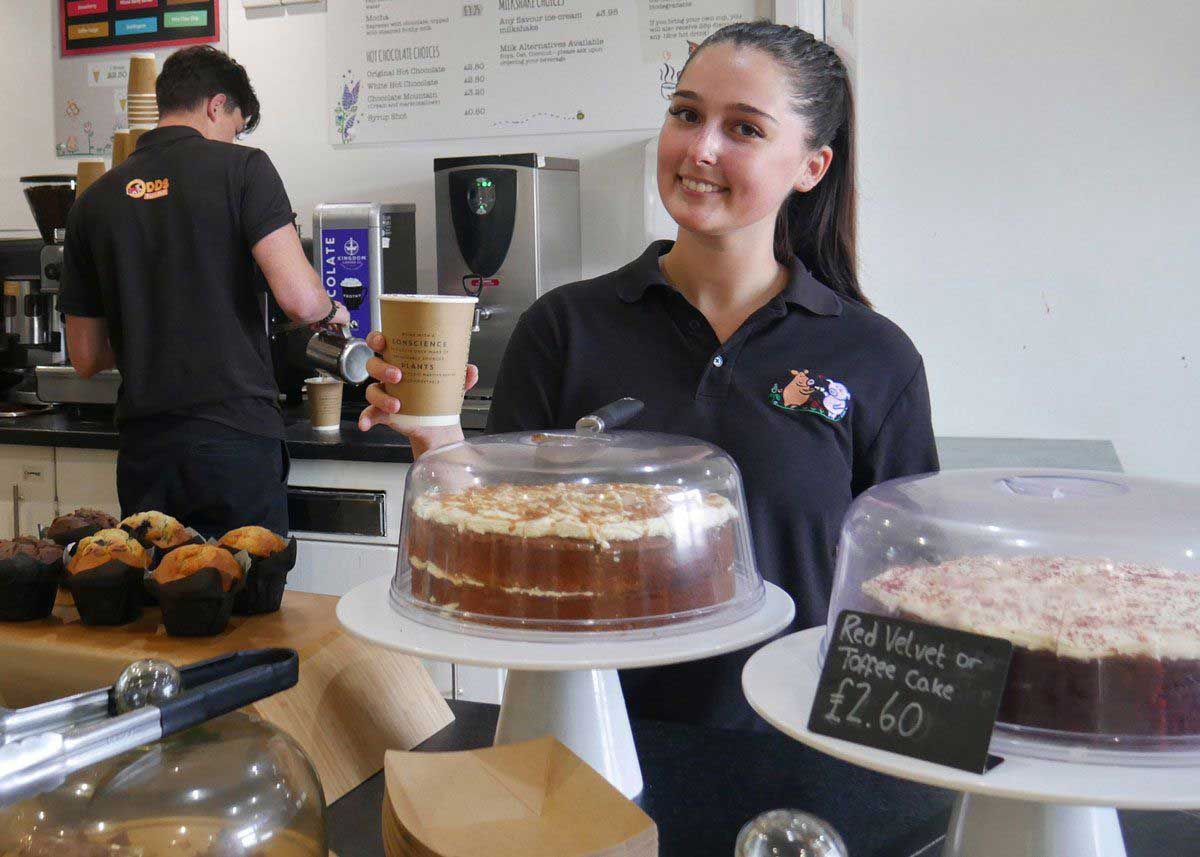 Coffee Bar & Ice Cream Parlour
Open daily
Available to take-away, our Coffee Bar offers a range of hot & cold drinks accompanied by a selection of delicious handmade cakes, snacks and light refreshments.
Options may include cold sandwiches, toasties, cakes, and sweet treats. We are proud to serve Chiltern Ice Cream Co ice cream within the Ice Cream Parlour, with 10 flavours to choose from.
More Outside
Airstream Van

Serving a choice of fresh and delicious 'street food' snacks and hot and cold drinks, the Airstream is perfect to fill in any extra hunger gaps! Delight the little ones with a Mr Whippy ice cream or relax with a hot drink.
Piggies Pit Stop

The Piggies Pit Stop is situated near the Outdoor Adventure Play and The Pond. Serving filter coffee and speciality teas, soft drinks and snacks. Alongside delicious bakery treats from Jungs of Beaconsfield.
Find Our Picnic Tables
Decide on whether you wish to dine in in Marmalade's Tearoom, or take your food to enjoy at one of our Outdoor Picnic areas.
We kindly ask guests to assist us in ensuring the Farm is kept tidy, and dispose of any rubbish and food waste as soon as possible directly into the bins provided.